Bromic is committed to utilizing sustainable design principles. Leveraging outdoor spaces for dining, working, and congregating is a design priority for leading architects around the world and the global pandemic has taught us that outdoor spaces are some of the safest, healthiest, and most necessary elements in both residential and commercial contexts.
We continue our commitment to building increasingly efficient outdoor heaters that don't waste energy by heating the air, but rather, heating people with radiant technology. While many competitors' heaters may last a season or two, Bromic heaters continue to provide warmth and comfort year after year, even in commercial environments.
What are Sustainable Design Principles & Why Do they Matter?
Sustainable design is the process of thoughtfully designing spaces that create limited impacts on the environment. Through reducing the consumption of non-renewable resources, minimizing waste, and creating healthy, productive environments, sustainable design principles encourage a focus on a product and space's applied efficiency and impact.

How Outdoor Heating Contributes to the Five Principles of Sustainable Design
Optimize Site Potential
Incorporating functional indoor/outdoor spaces is an avenue to increase site potential by creating flexible living spaces that require less overall maintenance, materials and energy. Outdoor heating increases the utility of these spaces throughout the year by providing high-efficiency radiant heat technology only when in use. By incorporating outdoor heating solutions into functional outdoor spaces, the use of the site is extended throughout seasons that may have once rendered them useless.

By bringing instant comfort to any outdoor space, boundaries are redefined between indoor and outdoor. Because indoor spaces tend to be climate controlled at all times, even while not in use, it can be extremely wasteful. Outdoor spaces with added outdoor heating solutions can be separated into zones, so that heaters will only ever be used in areas that are in use, contrary to indoor commercial spaces that often only have one central HVAC system.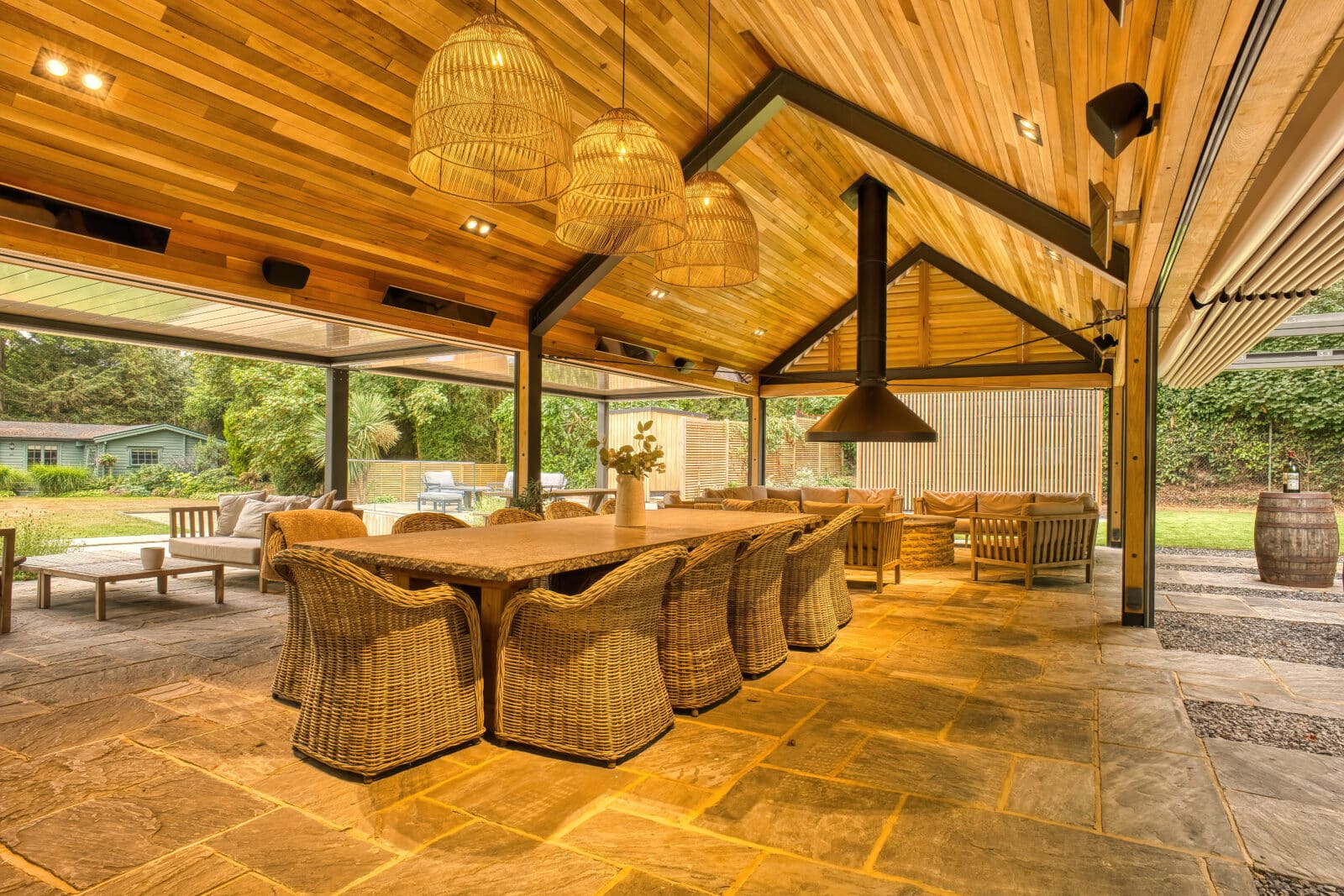 Minimize Non-Renewable Energy Consumption
Because we don't yet have viable means of generating all of our power from renewable energy sources, space heating – both indoors and outdoors – will always come with an environmental impact. The good news is there are several strategies that can be employed to minimize the use of non-renewable energy sources. Considerations such as site layout, size, geographical location and choosing the correct fuel source can assist in creating the most efficient heat layout possible. Bromic ensures necessary coverage while minimizing energy impact by offering a Complimentary Design Service, providing customers the necessary tools to practice sustainable design principles.

Use Environmentally Preferable Products
The composition of materials that are used in a product are a major factor in the environmental impact it will have over its lifetime. One of the major benefits of using products made with highly durable materials is that they will not need to be replaced or repaired as frequently, resulting in less maintenance, less waste and lower pressure on the global supply chain.

Made of 304 grade stainless steel, Bromic's outdoor heating collections were created for premium longevity and durability. With an added offering for 316 marine-grade stainless steel for marine and coastal environments, Bromic is the leader in creating environmentally preferable outdoor heating solutions. By choosing quality components that require very limited maintenance, we can ensure that our products are able to last season after season.
Enhance Indoor Environmental Quality
Indoor Environmental Quality (IEQ) is defined by the Centers for Disease Control and Prevention as, "the quality of a building's environment related to the health of occupants within it." This is determined by many factors including air quality, lighting, and the cleanliness of the space. One of the easiest ways to enhance the indoor environmental quality is to incorporate functional indoor/outdoor spaces to allow proper air flow to the building. The installation of large windows, sliding doors, fully retractable roofs or separate outdoor structures can all contribute to IEQ, while allowing occupants to reconnect with their natural environment. With the expansion of our social, working and cultural spaces to the outdoors there now is a clear requirement for outdoor heating technology that delivers thermal comfort to external environments to ensure people's wellbeing, health and productivity are maintained outdoors.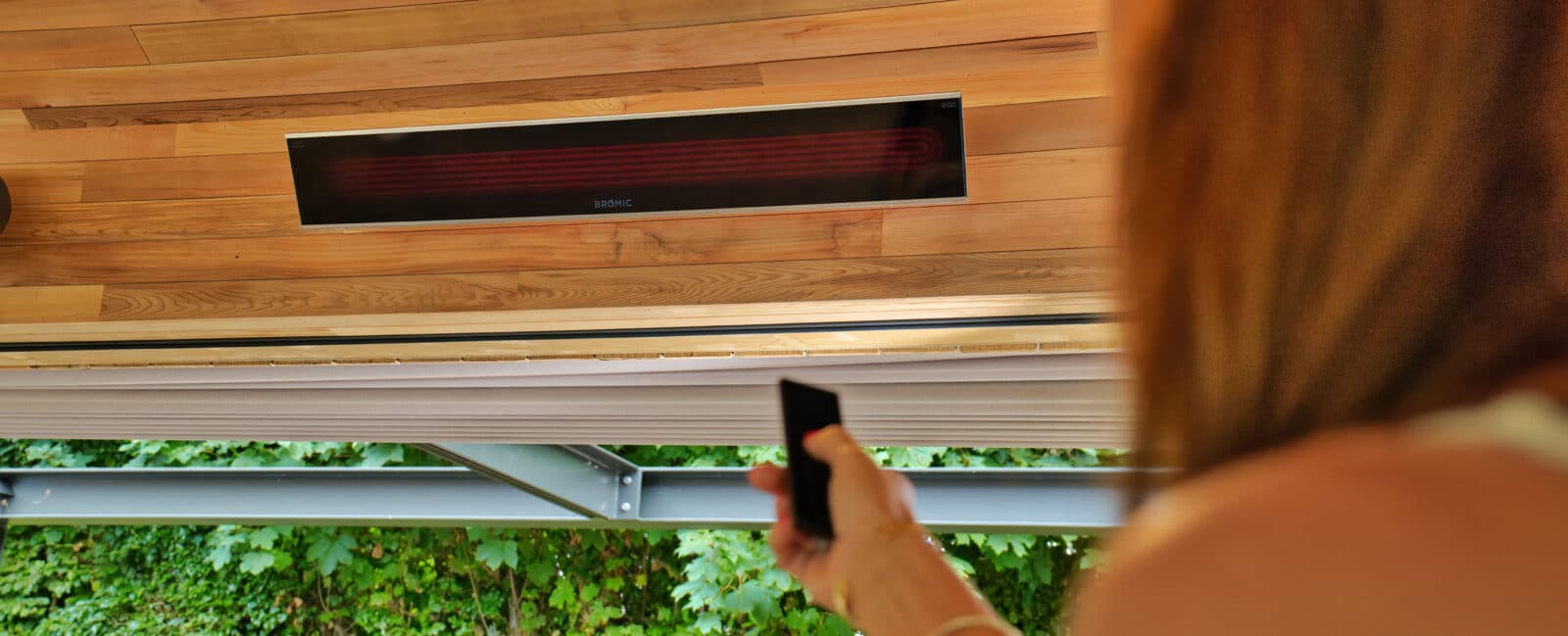 Optimize Operational and Maintenance Practices
Sustainable operations and maintenance practices focus primarily on the actions of building occupants, and encompass safety, health, comfort, and productivity. Optimizing a building's operating and maintenance practices will contribute to improved working environments, higher productivity, lower energy costs, and prevention of system failures. By specifying Bromic's outdoor heating solutions, designers can simplify maintenance requirements and reduce product life-cycle costs. In addition, adding controls technology such as the Dimmer Controller or Master Remote, the heaters can be dimmed to the right temperature for the space or zoned to only be used in spaces that are being occupied. These heaters can also be integrated with any smart-home or business management automation systems via such as the Smart-Heat Link creating precise control of the heat being projected.
The Full Range Heating Solution
There is no doubt that outdoor spaces will continue to play a significant role in residential and commercial design concepts. Their impact on health, mental wellbeing and social connectivity is undisputed. Thanks to outdoor heating technology, we no longer need to compromise when it comes to expanding our comfort zones to the outdoors. Bromic Heating's mission is to design radiant outdoor heating technology that can bring comfort and warmth into outdoor spaces in the most efficient and sustainable way possible. Through our engineering expertise, cutting-edge technology and commitment to sustainable design principles, we believe that we can make this goal a reality.
Let the technical experts at Bromic guide you in efficiently integrating outdoor heating into your project. Through stringent utilization of sustainable design principles, we'll ensure you specify the correct amount, power and fuel type needed to optimize your site.