If you're a homeowner looking to enhance your outdoor living space, an outdoor heater can be a game-changer, extending the use of your patio or deck into the cooler months for more year-round use. But with so many options available, it can be tough to know which heater is right for your space. One consideration to keep in mind is whether to go for a freestanding unit or a fixed heater mounted to either the wall or ceiling. Let's explore the benefits of installing wall mounted outdoor heaters and help you decide if it's the right choice for you.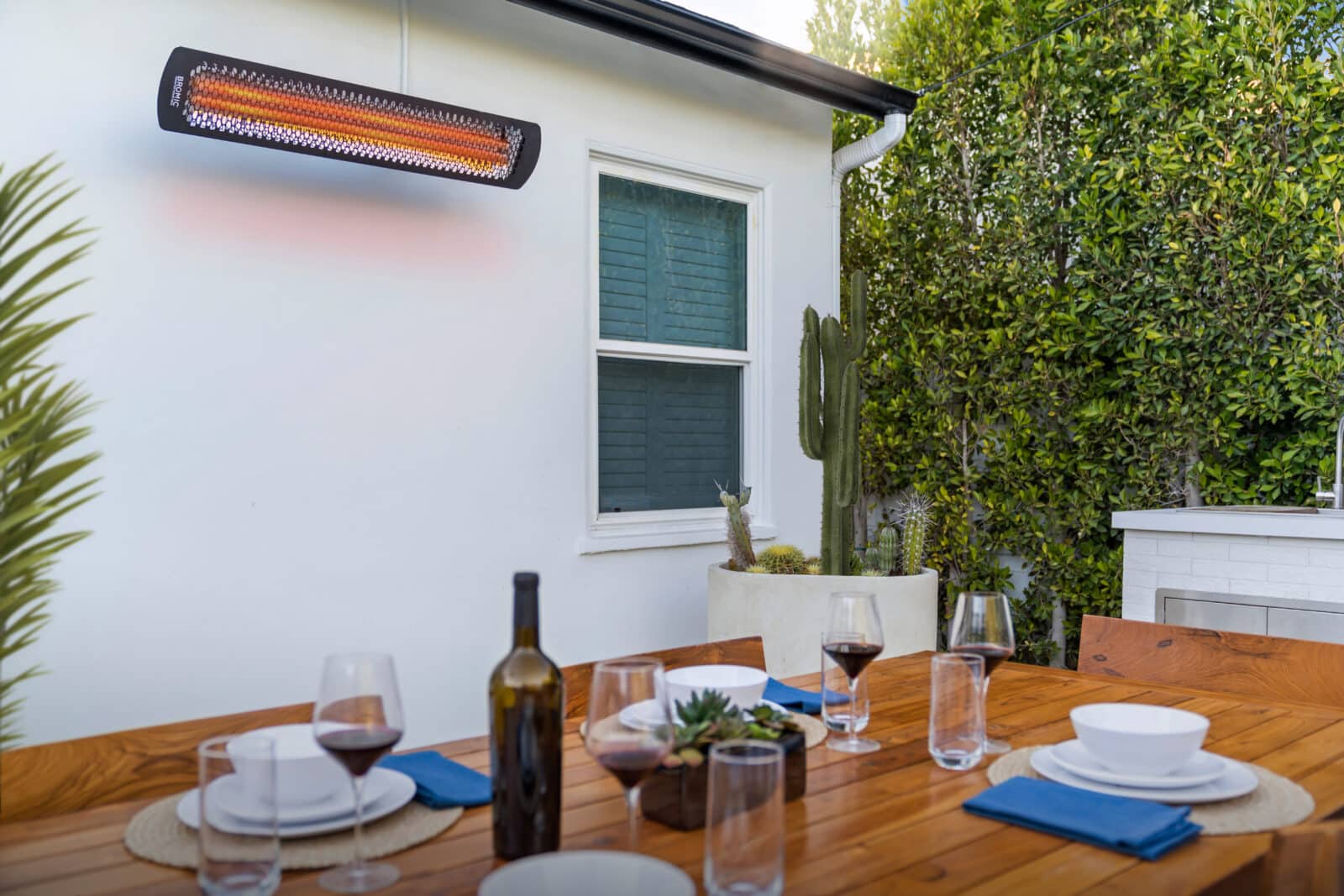 What are the Benefits of Wall-Mounting my Heater?
There are a couple of benefits to wall mounted heaters that make them the optimal heating solution for some spaces. Ideal for locations that don't have ceilings or outdoor coverings, wall mounted outdoor heaters can make your patio or deck look more spacious and less cluttered.
Bromic's offering of wall mounted outdoor heaters are compact, proving to be ideal for smaller outdoor spaces that may feel crowded with other clunky or portable outdoor heaters. These wall mounted outdoor heaters are also perfect for larger patios as their efficient directional radiant heating can ensure that warmth is spread throughout the space.
Additionally, Bromic's wall mounted outdoor heaters come in a variety of collections with different design styles, creating a heating solution to fit the ambiance of any space. Having a stylish patio heater lessens the visibility or eye-sore of less design-centric heaters, causing them to blend seamlessly within the space, and make them less noticeable.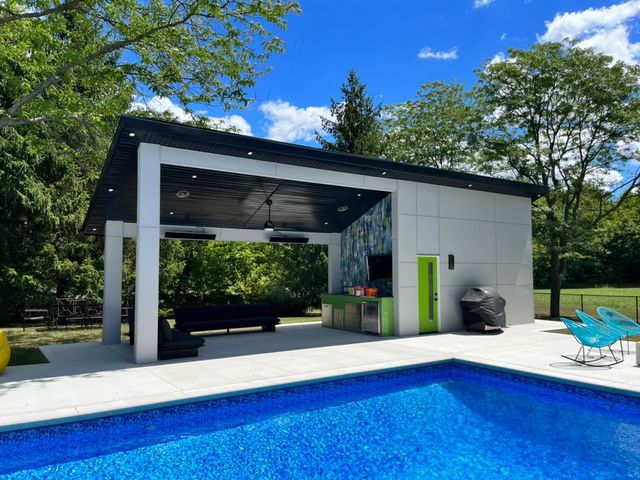 What are the Top Considerations when Wall Mounting your Outdoor Heaters?
Before you go ahead with the installation of wall-mounted outdoor heaters, it's important to consider the below factors to ensure the safety and efficiency of the heating system.
Do you have the proper clearances available to install a wall mounted outdoor heater?
There should be at least a 2m distance from the floor to the heater head for our electric heaters and at least 3m from the floor to the heater head when installing gas heaters, depending on the model. When installing wall mounted outdoor heaters to spaces with a ceiling, the clearance from the ceiling to the heater for electric models should be between 152mm – 305mm depending on the wattage. Clearances from the ceiling for gas models should be at least 1m without a heat deflector and at least 356mm with a heat deflector. It is important to take into consideration local clearance codes and adjust to the above U.S. standard clearances depending on where you are located.
Will the heaters be installed near any potential combustibles?
Bromic's electric and gas outdoor heaters should always be 1m away from combustibles within the space. For electric heaters, it is recommended to keep a 127mm or 305mm clearance space from any object above, depending on the model. Gas wall mounted outdoor heaters on the other hand, should be installed so there's at least 1m of space between the top of the heater and any objects above. What is considered as a combustible is anything that is not rated for 149 degrees above ambient temperature including canvas, flash points, sprinklers, head mounts, electric sockets above or behind heaters, fans, lights, can lights, TV's, vinyl, awnings, screens, etc. Additional combustible materials include building materials with a low heating tolerance such as plastic or tri-ply, which might degrade at a much lower temperature. It's the installer's responsibility to ensure that all materials within 1m is rated correctly. For further information on clearance requirements, see the Installation Guides for each heater.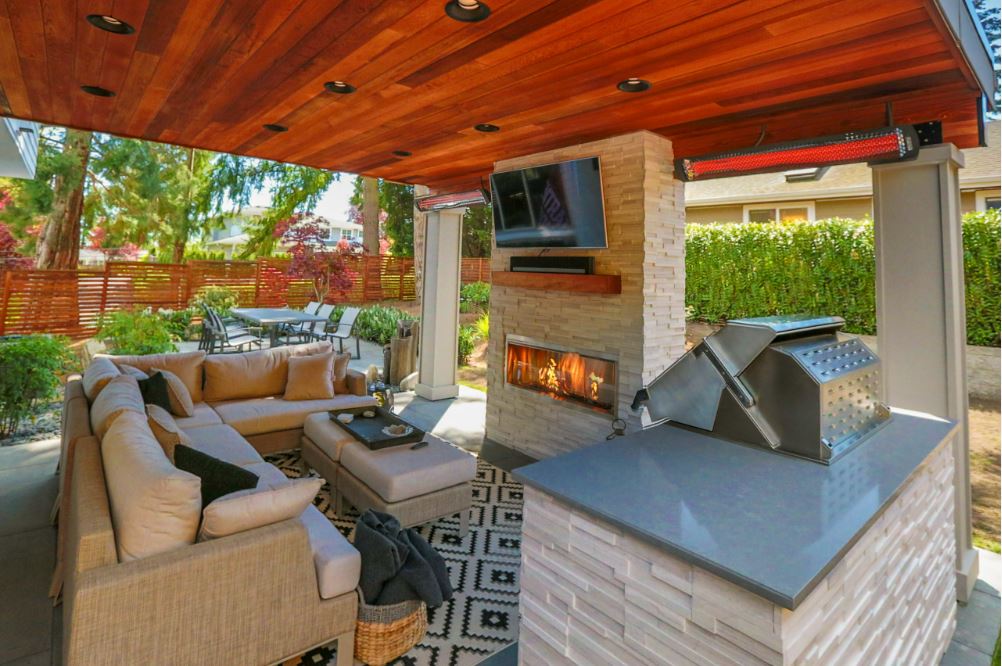 Can my walls carry the weight of the heaters?
In addition, it's vital to ensure that the wall or structure is able to easily carry the weight of the heater (or heaters). Bromic's electric heaters vary between 16lb and 22lb, while the gas collections can weigh between 33lb and 44lb, depending on the model.
Are the heaters able to be positioned to heat high-use areas of the space?
For the most efficient heating of any space, proper placement of the heaters is a necessity so that the heat is not being wasted on spaces that don't need it. Walls or beams will need to be nearby the spaces where heat is desired for proper heat placement. If there is no wall for the heaters to adhere to next to a patio lounging set or outdoor dining area, then wall mounting outdoor heaters might be the right choice.
By taking these factors into account, you can make an informed decision about whether wall mounted outdoor heaters are the right choice for you.
Interested in wall-mounting outdoor heaters within your space?
Let Bromic's heating experts do all the work for you! Through the complimentary design service, our heat experts will take a look at any photos or plans of the space and determine the best heating solution and mounting options for optimal heating.
Categories